Biography
Ann Carr Putnam was born 15 June 1661 in Salisbury, Essex County, Massachusetts to George Carr (1599-1682) and Elizabeth Dexter (1623-1691) and died 8 June 1699 Salem, Essex County, Massachusetts of unspecified causes. She married Thomas Putnam, Jr. (1652-1699) 25 September 1678 in Salem, Essex County, Massachusetts.
From the History of the Putnam Family in England and America: "Thomas Putnam, b. 12-1-1652 (*Old style dates, March is first month); baptized at First Church of Salem, 16-2-1652; died in Salem, 24 May 1699; married 25-9-1678, Ann, youngest daughter of George and Elizabeth Carr of Salisbury, born there, 15 June 1661; died at Salem Village, 8 June 1699.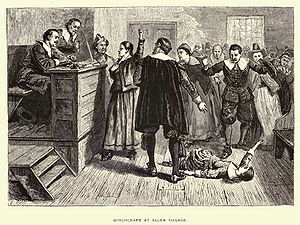 The Salem witch trials were a series of hearings and prosecutions of people accused of witchcraft in colonial Massachusetts between February 1692 and May 1693. More than 200 people were accused, nineteen of whom were found guilty and executed by hanging (fourteen women and five men). One other man, Giles Corey, was pressed to death for refusing to plead, and at least five people died in jail. It was the deadliest witch hunt in the history of the United States.
Children
Offspring of Thomas Putnam and Ann Carr (1661-1699)
Name
Birth
Death
Joined with
Ann Putnam (1679-1716)
18 October 1679 Salem, Essex County, Massachusetts, United States
1716 Essex County, Massachusetts


Thomas Putnam III (1681-1757)
9 February 1681 Salem, Essex County, Massachusetts, United States
1757 Salem, Essex County, Massachusetts, United States

Elizabeth Whipple (1694-?)




Elizabeth Putnam (1683-)




Ebenezer Putnam (1685-)




Deliverance Putnam (1688-1712)




Infant Putnam (1689-1689)




Timothy Putnam (1691-1762)



Abigail Putnam (1692-1744)
26 February 1692 Salem, Essex County, Massachusetts, United States
24 June 1744 Salem, Essex County, Massachusetts, United States

John Dean (?-?)




Susanna Putnam (1694-)




Sarah Putnam (1694-1694)



Seth Putnam (1695-1775)
May 1695 Danvers, Essex County, Massachusetts, United States
11 November 1775 Charlestown, Sullivan County, New Hampshire, United States

Ruth Whipple (1692-1785)




Experience Putnam (1698-)
Siblings
Residences
See Also
Footnotes (including sources)