Almon W Babbitt was born 9 October 1812 in Cheshire, Berkshire County, Massachusetts to Ira Babbitt (1790-1867) and Nancy Crozier (1789-1859) and died 24 October 1856 Fort Laramie, Goshen County, Wyoming of unspecified causes. He married Julia Ann Johnson (1808-1857) 23 November 1833 in Kirtland, Geauga County, Ohio. He married Delcena Diadamia Johnson (1806-1854) 24 January 1846 in Nauvoo, Hancock County, Illinois.
Biography
[
]
Almon Whiting Babbitt was an early leader in the Latter Day Saint movement, a Mormon pioneer, and the first secretary and treasurer of the Territory of Utah. He was killed in a raid by Cheyenne Native Americans in Nebraska Territory while travelling on government business between Utah and Washington, D.C.
Zions Camp Participant
[
]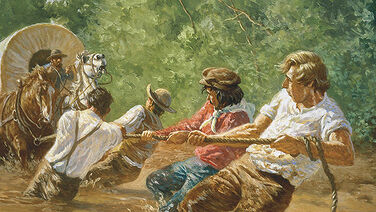 One of the most interesting episodes in the early history of LDS Church was the march of Zion's Camp (1834). The members of the Church in Missouri were being persecuted, and the Prophet Joseph made it a matter of prayer and received a revelation on February 24, 1834. The Lord instructed the Prophet to assemble at least one hundred young and middle-aged men and to go to the land of Zion, or Missouri. (See D&C 130:19–34.)
Zion's Camp, a group of approximately one hundred and fifty men, gathered at Kirtland, Ohio, in the spring of 1834 and marched to Jackson County, Missouri. By the time they reached Missouri, the camp had increased to approximately two hundred men.
Children
Offspring of Almon W Babbitt and Julia Ann Johnson (1808-1857)
Name
Birth
Death
Joined with

David Homer Babbitt (1835-1836)




Ann Caroline Babbitt (1843-1844)




Don Carlos Babbitt (1843-1912)




Almon Whiting Babbitt (1847-1918)




Julia Ann Babbitt (1849-1912)




Nancy Marie Babbitt (1854-1949)
Siblings
}