Almera Woodard Johnson Smith Barton
was born
12 October
1812
in
Westford
,
Chittenden County
,
Vermont
to
Ezekiel Johnson (1773-1848)
and
Julia Hills (1783-1853)
and died
4 March
1896
in
Parowan
,
Iron County
,
Utah
of unspecified causes. She married
Joseph Smith (1805-1844)
August 1843 in
Nauvoo
,
Hancock County
,
Illinois
.
Biography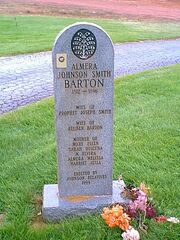 A daughter of Ezekiel and Julia Hills Johnson and a plural wife of the Mormon Prophet Joseph Smith (1805-1844). After Joseph Smith's death, on Nov. 16, 1845 she married Reuben Barton with her brother Joel Hills Johnson officiating. Together they had five daughters. Their third daughter, Lois, (the only one who lived to adulthood) was mentally impaired. Feeling responsible for her child's condition, "Almera wondered if it was punishment because she remarried."
In 1861 Almera and Reuben, who had become disaffected with the Church, separated and Almera traveled to Utah and settled in Parowan where for three more decades she would care for Lois.

,
Siblings
Offspring of Ezekiel Johnson Jr and Julia Hills (1783-1853)
Name
Birth
Death
Joined with


Joel Hills Johnson (1802-1882)


Nancy Maria Johnson (1803-1836)


Seth Garnsey Johnson (1805-1835)


Delcena Diadamia Johnson (1806-1854)
19 November 1806 Westford, Chittenden County, Vermont
21 October 1854 Salt Lake City, Salt Lake County, Utah
Lyman Royal Sherman (1804-1839)
Joseph Smith (1805-1844)
Almon Whiting Babbitt (1812-1856)


Julia Ann Johnson (1808-1857)
9 November 1808 Westford, Chittenden County, Vermont
23 October 1857 Crescent City, Pottawattamie County, Iowa
Almon Whiting Babbitt (1812-1856)


David Partridge Johnson (1810-1833)


Almera Woodward Johnson (1812-1896)
12 October 1812 Westford, Chittenden County, Vermont
4 March 1896 Parowan, Iron County, Utah
Joseph Smith (1805-1844)
Reuben Almon Barton (1811-1891)


Susan Ellen Johnson (1814-1836)


Joseph Ellis Johnson (1817-1882)


Benjamin Franklin Johnson (1818-1905)


Mary Ellen Johnson (1820-1845)


Elmer Wood Johnson (1821-1822)


George Washington Johnson (1823-1900)


William Derby Johnson (1824-1896)


Esther Malita Johnson (1828-1876)


Amos Partridge Johnson (1829-1848)
Research Notes
Within their journals her brothers Joel and Benjamin refer to her as Almera "Woodard" not "Woodward." Joel named one of his own daughters Almera Woodard.
References
Residences
Footnotes (including sources)
Contributors
Community content is available under
CC-BY-SA
unless otherwise noted.