This page collects information about people with surname Allphin who were known or believed to have lived in Washington County, Utah.
Notable Individuals
1863 Pine Valley Flood Tragedy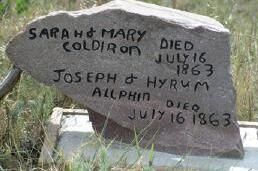 In Memory of :
History - July 16, 1863, a cloudburst in Pine Valley sent a flood down the gorge (7 miles south). Susan Allphin was putting her baby to bed when she heard the roar. Holding tightly to baby Hyrum and Susan Emeline in each arm with her other three children, little Joe Allpin, Sarah and Martha Coldiron clinging to her skirts she rushed down the stream to Burnetta Allphin's house.
Israel Dodge Allphin (Burnetta and Susan's husband) took Susan from her arm just moments before a floating log struck her other arm and knocked baby Hyrum into the roaring current. The other three children at her heels were also swept away. Susan clung to a protruding log on Burnetta's house as she wept for her stolen children.
Israel helped his remaining family members to safety, then swam all night in the cold stream trying to locate the children. The bodies were found hanging naked in the tops of the cottonwood trees farther down the creek. All that was left of their clothing on their torn and bruised bodies were the cuffs and neck band of baby Hyrum's little red flannel nightgown.
Their bodies were taken to Pine Valley and buried in the same grave in the Old Pine Valley Cemetery. Later a flood came down and washed away all but four of the graves in that cemetery. The bodies of Joseph, Hyrum, Sarah and Mary were never found.
Notable Landmarks
St George Temple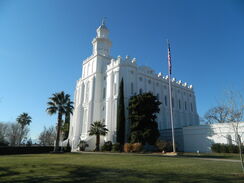 The St. George Utah Temple (formerly the St. George Temple) of The Church of Jesus Christ of Latter-day Saints (LDS Church) in St. George, Utah. Completed in 1877, it was the church's third temple completed, but the first in Utah, following the migration west of members from Nauvoo, Illinois, following the death of the church's founder, Joseph Smith (1805-1844). It has been the place for marriages and temple ordinances for many LDS families in the area.
See Also
:Note, for the following tables, that there may be more than one county or district of this name and that some contributors may have entered a different (possibly shorter and/or ambiguous) name when this one was meant. Search for similar names to get a more complete result. Common abbreviations are "Co." and "Cty", but there may have been no word for "county" (or equivalent) included, or such a word may have been wrongly included.
Familypedia people with surname Allphin in Washington County, Utah

Readers can sort columns using the triangles at top.
Born in Washington County, Utah
Baptised in Washington County, Utah
Married in Washington County, Utah
See also

Category:Married in Washington County, Utah
Grouping is for "first marriage", "second marriage", etc as indicated in column headings
Died in Washington County, Utah
See also

Category:Died in Washington County, Utah
|   | Death date | Death place | Birth place | Father | Mother | Joined with |
| --- | --- | --- | --- | --- | --- | --- |
| Hyrum Allphin (1862-1863) | 16 July 1863 | Pine Valley, Washington County, Utah, United States | Pine Valley, Washington County, Utah, United States | Israel Dodge Allphin (1814-1903) | Susan Emeline Dameron (1833-1879) | |
| Joseph Warren Allphin (1859-1863) | 16 July 1863 | Pine Valley, Washington County, Utah, United States | Salt Lake City, Salt Lake County, Utah, United States | Israel Dodge Allphin (1814-1903) | Susan Emeline Dameron (1833-1879) | |
Buried in Washington County, Utah
|   | Remains date | Remains place | Birth place | Baptism place | Father | Mother | Joined with |
| --- | --- | --- | --- | --- | --- | --- | --- |
| Hyrum Allphin (1862-1863) | 9999 | Old Pine Valley Cemetery, Washington County, Utah | Pine Valley, Washington County, Utah, United States | | Israel Dodge Allphin (1814-1903) | Susan Emeline Dameron (1833-1879) | |
| Joseph Warren Allphin (1859-1863) | 9999 | Old Pine Valley Cemetery, Washington County, Utah | Salt Lake City, Salt Lake County, Utah, United States | | Israel Dodge Allphin (1814-1903) | Susan Emeline Dameron (1833-1879) | |