Alice Unknown Brown Mullins was born circa 1580 in Surrey, England and died 1621 onboard Mayflower in Plymouth Harbor, Plymouth, Plymouth County, Massachusetts of unspecified causes. She married William Mullins (c1572-1620) 1605 in Surrey, England.
Research Notes
Mayflower historian Caleb Johnson has disproven the marriage of William Mullins to Alice Atwood. He now shows that Williams first wife was Elizabeth Wood (c1575-1604).
William Mullins married secondly Alice _____ possibly ca 1605. Her ancestry is unrecorded. She may have been the widow of two possible men with the surname Browne. She traveled with him on the Mayflower and died in Plymouth Colony in the winter of 1620/1, probably in Plymouth Harbor aboard the ship.
Child believed of his second marriage:
Joseph Mullins, born about 1606. He was a passenger on the Mayflower with his parents and sister Priscilla. He died after the first winter in Plymouth – sometime in 1621 between April 5 and mid-November, date unknown. His corrected birth year per Johnson.[1][7][17]
Siblings
Vital Records
Bradford's Passenger List
1651 Journal entry by Gov William Bradford about the original Mayflower settlers:
Mr. William Molines, and his wife, and 2 children, Joseph and Priscila; and a servant, Robert Carter.

Mr. Molines, and his wife, his sone, and his servent, dyed the first winter. Only his dougter Priscila survived, and maried with John Alden, who are both living, and have 11 children. And their eldest daughter is maried, and hath five children.
Cole's Hill Memorial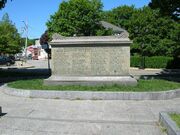 A large monument was erected in 1921 on Cole's Hill in Plymouth, Massachusetts to honor the many pilgrims who came to Plymouth Colony in the Mayflower but died during the first terrible winter and were buried here. This person is one of those person's listed thereon.
Pilgrim Monument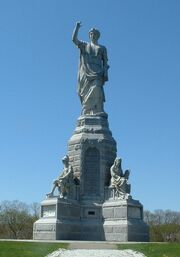 National Monument to the Forefathers, commemorates the Mayflower Pilgrims, (including this person) who came to Plymouth Colony in 1620 on the Mayflower. Dedicated on August 1, 1889, it is thought to be the world's largest solid granite monument. Located on an 11 acre hilltop site on Allerton Street in Plymouth, Massachusetts.
References
Residences
Footnotes (including sources)