Albert Brown was born 13 November 1807 in Windsor, Hartford County, Connecticut, United States to James Brown (1771-1855) and Mary Griffin (1774-1815) and died 28 January 1902 East Millcreek, Salt Lake County, Utah, United States of unspecified causes. He married Sarah Campbell (1816-1882) 31 December 1839 in Kirtland, Lake County, Ohio, United States. He married Minnie Ann Cook (1820-) 28 December 1885 in Salt Lake City, Salt Lake County, Utah.
Biography
Albert Brown was living in Hoosick, Rensselaer Co., New York, 1830. From there he joined the LDS Church in 1832.
Moved to Utah in 1863 where he eventually became an LDS Stake patriarch in East Millcreek.
Zions Camp Participant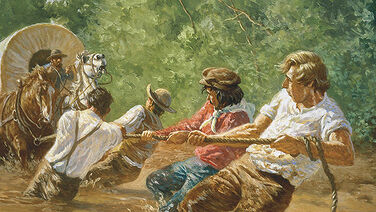 One of the most interesting episodes in the early history of LDS Church was the march of Zion's Camp (1834). The members of the Church in Missouri were being persecuted, and the Prophet Joseph made it a matter of prayer and received a revelation on February 24, 1834. The Lord instructed the Prophet to assemble at least one hundred young and middle-aged men and to go to the land of Zion, or Missouri. (See D&C 130:19–34.)
Zion's Camp, a group of approximately one hundred and fifty men, gathered at Kirtland, Ohio, in the spring of 1834 and marched to Jackson County, Missouri. By the time they reached Missouri, the camp had increased to approximately two hundred men.
Other
Purportedly served on Mormon Battalion but he is not found on their roster. While his obituary claims he served in the Mormon Battalion, it tells of a story of manning a gun during the expulsion of Mormons from Nauvoo. That incident would also conflict with the timetable for serving with the Battalion (Sept 1847- 250 miles apart).
Marriage and Family
Children
Siblings
Footnotes (including sources)
Community content is available under
CC-BY-SA
unless otherwise noted.