The Adams family was a prominent political family of the United States from the late 18th through the early 20th centuries. Based in eastern Massachusetts, they formed part of the Boston Brahmin community. The surname Adams stems from Henry Adams of Somerset County in Great Britain.[1]
Hannah Adams (1755-1831), ( TAdams5, TAdams4, HAdams3, HAdams2, HAdams1) a historian and theologian, first professional female author in America.
Samuel Adams (1722–1803), ( SAdams5, JAdams3, JAdams2, HAdams1) - the second President's second cousin; founding father and revolutionary, president of Massachusetts Senate, 3rd Lt Gov of Mass, 4th Gov of Mass. Not usually considered part of the family
Samuel A. Adams (1934–1988), a historian and CIA analyst.
Dr. Zabdiel Boylston Adams Jr. (b. Oct. 25, 1829 - d. May 1, 1902)
Family Tree
Edit
The following is a selective family tree of notable members of the Adams family relative to Charles Francis Adams IV:


Harvard University and the Adams family
Edit
Adams House, one of twelve residential colleges at Harvard, is named after John Adams and later members of the Adams family.
Connections
Edit
The Adams political family is connected with U.S. Presidents Millard Fillmore, William Howard Taft, and Calvin Coolidge and U.S. Vice President Dick Cheney, through common descent from one Henry Squire.[11]
Through his mother, John Adams was a second cousin of Massachusetts governor Increase Sumner; their maternal grandmothers were sisters. Both were also related to President Coolidge and to Diana, Princess of Wales, and through the latter to The Duke of Cambridge and Prince Harry.
The Adams family is one of only four families to have produced two Presidents of the United States, the others being the Bush family, the Roosevelt family, and the Harrison family.
Adams Family Residence
Edit
Adams National Historical Park, formerly Adams National Historic Site, in Quincy, Massachusetts, preserves the home of Presidents of the United States John Adams (1735-1826) and John Quincy Adams (1767-1848), of U.S. Ambassador to Great Britain, Charles Francis Adams, and of the writers and historians Henry Adams and Brooks Adams and many other members of the famous Adams political family.
The national historical park's eleven buildings tell the story of five generations of the Adams family (from 1720 to 1927) including Presidents, First Ladies, U.S. Ministers, historians, writers, and family members who supported and contributed to their success. In addition to Peacefield, home to four generations of the Adams family, the park's main historic features include the John Adams Birthplace (October 30, 1735), the nearby John Quincy Adams Birthplace (July 11, 1767), and the Stone Library (built in 1870 to house the books of John Quincy Adams and believed to be the first presidential library), containing more than 14,000 historic volumes in 12 languages.
There is an off-site Visitors Center less than a mile (1.6 km) away. Regularly scheduled tours of the houses are offered in season (April 19 to November 10), by guided tour only, using a tourist trolley provided by the Park Service between sites. Access to United First Parish Church, where the Adamses worshipped and are buried, is provided by the congregation for which they ask a small donation. The church is across the street from the Visitors Center.
External Links
Edit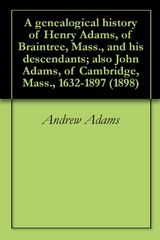 References
Edit
Further reading
Edit
Robert J. Maddox, "The Adamses in America," American History Illustrated, Apr 1971, Vol. 6 Issue 1, p 12-21
Community content is available under
CC-BY-SA
unless otherwise noted.