Sgt. Abraham Adams was born 14 June 1639 in Salem, Essex County, Massachusetts to James Robert Adams (1602-1682) and Eleanor Wilmot (1610-1677) and died 14 June 1714 Newbury, Essex County, Massachusetts of unspecified causes. He married Mary Ingersoll Pettingill (1652-1705) 16 November 1670 in Newbury, Essex County, Massachusetts.
SERGT. ABRAHAM», b. in Salem, Mass., 1639; m. Nov. 10, 1670, Mary Pettengill, dau. of Richard and Joanna (Ingersoll) Pettengill, b. July 0, 1052 ; d. 19 Sept., 1705, age 63.
He was a corporal in the militia 1685-1693, and became sergeant in 17Ü3. He d. in Newbury, in Aug., 1714, aged 75.
Children
Siblings
Residences
Vital Records
Essex Gravestone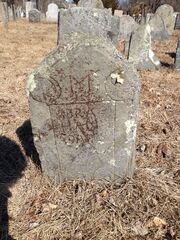 Family Estate Contract
Soon after Sergt. Abraham's death, viz. : on the 17th day of Sept. , 1714, in the 18th year of Her Majesty's reign (.Queen Anne) the children entered into and made the following Agreement: — We, the subscribers, children of our honored father, Abraham Adams, late of Newbury, deceased, do mutually agree upon and make the following division of said estate to and among ourselves, in full settlement thereof.
Imprimis; Robert Adams, eldest son, is to enjoy all ye lands and buildings thereon in Newbury, called ye homestead, which lands were given by our honored grandfather, Robert Adams, late of Newbury, in his last will and testament. and all ye lands lately laid out to ye freehold right of our said grandfather on ye lower common in said town, and ye part of ye wood lott belonging to said freehold and ye land thereunto belonging, and all land yt shall be laid out in Newbury to said right with all other profits and privileges belonging to said freehold, or yt shall hereafter redound thereto, and ye Tow-combs in ye garret of ye dwelling house for the 20 shillings given him in his father's will, to be ye said Robert's — the eldest son, paying to his two brothers, Abraham and Isaac, 20 Ibs apiece according to ye will of his said grandfather,— and all other payments appointed to him to make.
Item, Abraham is to enjoy for his part of said estate all ye land on which he dwells which was purchased of Mr. Samuel Sewall Esq with all profits and privileges ytunto belonging, and one-sixth part in all ye land in Haverhill except one half of what was purchased of Peasley which is allotted for Isaac, and yt according to quantity and quality, and 24 Ibs personal estate, which he has already received to hie satisfaction,— the said Abraham engaging himself, and his heirs, executors and administrators to pay all debts due from said estate, and to receive all debts due to ye same.
Item ; Isaac Adams is to enjoy for his part ye piece of meadow or marsh land of Jackman's at Kent's Island in Newbury, and one-half of ye tract of land"
--- A genealogical history of Robert Adams, of Newbury, Mass. pub 1900 p4
See Also
Footnotes (including sources)
Community content is available under
CC-BY-SA
unless otherwise noted.