Corp Aaron J Sanders was born 15 January 1831 in Homer, Banks County, Georgia, United States to Daniel Samual Sanders (1805-1875) and Miriam Rosetta Hillhouse (1810-1886) and died 21 October 1909 Banks County, Georgia, United States of unspecified causes. He married Mary M Rucker (1835-1923) .
Civil War Service
Aaron Sanders enlisted as a Confederate Soldier in the 24th Georgia Infantry Regiment, Co A. Appointed a Corporal and wounded at Deep Bottom Va on 16th August 1864 .On the roll of 30th Jan 1865 he was reported as being home on furlough recovering from wound. His distant cousin, Christopher Columbus Sanders (1838-1908) was colonel of this Regiment.
During the siege of Richmond/Petersburg, there were two battles in the summer of 1864 at Deep Bottom in Henrico County, Virginia; 1st Battle was July 27-29 and 2nd Battle was Aug 14-20. It appears that Corporal Sanders was wounded midway thru the second battle. Aug 16th was a day of heavy fighting that saw the Union troops temporarily break through Confederate lines.
Company A was recruited from Banks County, Georgia and included AJ Sanders and several of his cousins and in-laws. Unit roster shows him recruited as a private, 01-Mar-1861; promoted to Corporal soon after; wounded at Deep Bottom, Aug 16, 1864. Roll dated 30-Jan-1865 shows him furlough at home to recover from wounds. No later record.
Children
Burial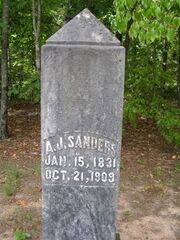 Burial: A.J. Sanders Cemetery, Banks County, Georgia, USA
Vital Records
1860 US Federal Census
Taken for 6th Malitia District, Banks Co, Georgia This shows the young couple Aaron and Mary Sanders with their first child living in the house of an old immigrant from Scotland.
Donald Mcdonald - M/91 - B: Scotland
Nansy Mcdonald - F/60 - B: Georgia
Alexander P Mcdonald - M/47 - B: Georgia
Aaron J Sanders - M/28 - B: Georgia
Mary M Sanders - F/18 - B: Georgia
Lucy V Sanders - F/1 - B: Georgia
Siblings
Residences
Footnotes (including sources)
Community content is available under
CC-BY-SA
unless otherwise noted.