This article is about the year 1989.


1989 (MCMLXXXIX) spoken "Nineteen Eighty Nine" or "9teen eighty-nine" was a common year starting on Sunday. It was the 1989th year of the Common Era ("A.D."); the 989th year of the 2nd millennium; the 89th year of the 20th century; and the 10th and last year of the 1980s decade. It was a historical turning point for the wave of revolutions that swept the Eastern Bloc, starting in Poland. Collectively known as the Revolutions of 1989, they heralded the dissolution of the Soviet Union two years later and the beginning of the post–Cold War period, which is characterized by the dominance of the United States in world affairs.
February 1 – Joan Kirner becomes Victoria's first female Deputy Premier, after the resignation of Robert Fordham over the VEDC (Victorian Economic Development Co-operation) Crisis.
February 2
February 3
February 6 – The government of the People's Republic of Poland holds formal talks with representatives of Solidarity movement for the first time since 1981.
February 7
February 10
February 11 – Barbara Clementine Harris is consecrated as the first female bishop of the Episcopal Church in the United States of America (and also the first female bishop in the worldwide Anglican Communion).
February 14
February 15
February 16 – Pan Am flight 103: Investigators announce that the cause of the crash was a bomb hidden inside a radio-cassette player.
February 17
February 20 – In Canada's Yukon Territory, the ruling New Democrats narrowly maintain control of the Yukon Legislative Assembly, winning 9 seats vs. the Progressive Conservative Party's 7.
February 23 – After protracted testimony, the U.S. Senate Armed Services Committee rejects, 11–9, President Bush's nomination of John Tower for Secretary of Defense.
February 23–27 – U.S. President Bush visits Japan, China, and South Korea, attending the funeral of Hirohito and then meeting with China's Deng Xiaoping and South Korea's Roh Tae-woo.
February 24
February 27 – Venezuela is rocked by the Caracazo, a wave of protests and looting.
June 2 – Sōsuke Uno succeeds Noboru Takeshita as Prime Minister of Japan.
June 3
June 4
June 7 – Surinam Airways Flight PY764 crashes, killing 176.
June 12 – The Corcoran Gallery of Art removes Robert Mapplethorpe's gay photography exhibition.
June 13 – The wreck of the German battleship Bismarck, which was sunk in 1941, is located 600 miles (970 km) west of Brest, France.
June 15 – In the Irish general election, the Fianna Fáil party, led by Taoiseach Charles Haughey, fails to win a majority.
June 16 – A crowd of 250,000 gathers at Heroes Square in Budapest for the historic reburial of Imre Nagy, the former Hungarian prime minister who had been executed in 1958.
June 18 – In the first Greek legislative election of the year, the Panhellenic Socialist Movement, led by Prime Minister of Greece Andreas Papandreou, loses control of the Hellenic Parliament, leading to Papandreou's resignation the next day.
June 21 – British police arrest 250 people for celebrating the summer solstice at Stonehenge.
June 22 – Ireland's first universities established since independence in 1922, Dublin City University and the University of Limerick, open.
June 24 – Jiang Zemin becomes General Secretary of the Communist Party of China.
June 30 – A military coup led by Omar al-Bashir ousts the civilian government of Prime Minister of Sudan Sadiq al-Mahdi.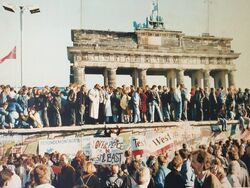 September 1
September 2 – Alexandre Pato, Brazilian footballer
September 7 – Hugh Mitchell, British actor
September 8 – Avicii, Swedish DJ, remixer, and record producer
September 9 – Sean Malto, American Professional Skateboarder
September 12 – Freddie Freeman, American baseball player
September 13 – Thomas Müller, German football player
September 14 – Logan Henderson, Lebanese American actor, dancer, and singer
September 15 – Steliana Nistor, Romanian gymnast and Olympic medalist
September 19 – Tyreke Evans, American basketball player, 2010 NBA Rookie of the Year
September 21 – Jason Derulo, American singer-songwriter. actor
September 22
September 23 – Brandon Jennings, American basketball player
September 26 – Emma Rigby, British actress
September 27 – Park Tae-Hwan, South Korean swimmer
September 29 – Theo Adams, British performance artist
June 3
June 4 – Dik Browne, American cartoonist (b. 1917)
June 7 – Don the Beachcomber, American restaurateur (b. 1907)
June 9
June 10 – Richard Quine, American actor (b. 1920)
June 13 – Fran Allison, actress (b. 1907)
June 15
June 17 – John Matuszak, American football player and actor (b. 1950)
June 22
June 23 – Werner Best, German Nazi official (b. 1903)
June 24 – Hibari Misora, Japanese singer (b. 1937)
June 26 – Howard Charles Green, Canadian politician, former Foreign secretary (b. 1895)
June 27
June 28 – Joris Ivens, Dutch filmmaker (b. 1898)
July 3 – Jim Backus, American actor (b. 1913)
July 4
July 6 – János Kádár, Hungarian politician & communist leader (b. 1912)
July 10 – Mel Blanc, American voice actor best known for voicing Bugs Bunny and Daffy Duck. (b. 1908)
July 11 – Laurence Olivier, prolific English stage and screen actor and director (b. 1907)
July 15 – Laurie Cunningham, English footballer (b. 1956)
July 16 – Herbert von Karajan, Austrian conductor (b. 1908)
July 17 – Itubwa Amram, Nauruan pastor and politician (b. 1922)
July 18
July 19 – Kazimierz Sabbat, Polish president (b. 1913)
July 20
July 22 – Martti Talvela, Finnish bass (b. 1935)
July 23
July 24 – Ernie Morrison, American actor (b. 1912)
July 30 – Lane Frost, American bull rider (b. 1963)
This page uses content from the English language Wikipedia. The original content was at 1989. The list of authors can be seen in the page history. As with this Familypedia wiki, the content of Wikipedia is available under the Creative Commons License.
People of the year 1989 at Familypedia
44 people were born in 1989
5 children were born to the 19 women born in 1989
117 people died in 1989
3132 people lived in 1989
Events of the year 1989 at Familypedia
21 people were married in 1989.
There were 0 military battles in 1989.
Community content is available under
CC-BY-SA
unless otherwise noted.