This article is about the year 1971.


Year 1971 (MCMLXXI) was a common year starting on Friday (link will display the full calendar) of the Gregorian calendar.
January 2
January 3 – BBC Open University begins in the United Kingdom.
January 5 – The 1st ever ODI cricket match is played between Australia & England at the M.C.G.
January 8 – Tupamaros kidnap Geoffrey Jackson, British ambassador to Uruguay, in Montevideo, keeping him captive until September.
January 9 – Uruguayan president Jorge Pacheco Areco demands emergency powers for 90 days due to kidnappings, and receives them the next day.
January 12 – The landmark television sitcom All In The Family, starring Carroll O'Connor as Archie Bunker, debuts on CBS.
January 14 – Seventy Brazilian political prisoners are released in Santiago, Chile. Giovanni Enrico Bucher is released January 16.
January 15 – The Aswan High Dam officially opens in Egypt.
January 17 – The Baltimore Colts defeated the Dallas Cowboys, 16-13, in Super Bowl V. The game was plagued by a record combined 11 turnovers, and was not decided until Jim O'Brien kicked a 32-yard field goal with five seconds remaining. Cowboys linebacker Chuck Howley became the first player from a losing team to be named Super Bowl MVP.
January 18 – Strikes in Poland demand the resignation of Interior Minister Kazimierz Switala. He resigns January 23 and is replaced by Franciszek Szlachcic.
January 19 – Representatives of 23 western oil companies begin negotiations with OPEC in Tehran to stabilize oil prices. February 14 they sign a treaty with 6 Khalij el-Arab countries.
January 24 – The Guinean government sentences to death 92 Guineans who helped Portuguese troops in the failed landing attempts in November 1970; 72 are sentenced to hard labor for life; 58 of the sentenced are hanged the next day.
January 31 – Apollo program: Apollo 14 (carrying astronauts Alan Shepard, Stuart Roosa, and Edgar Mitchell) lifts off on the third successful lunar landing mission.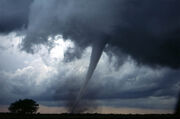 March 1
March 4 – The southern part of Quebec, and especially Montreal, receive 16½" (42 cm) of snow in what becomes known as the Century's Snowstorm (la tempête du siècle).
March 5 – The Pakistani army occupies East Pakistan.
March 6 – A fire in a mental hospital at Burghölzli, Switzerland, kills 28 people.
March 7
March 8 – 'Fight of the Century': Boxer Joe Frazier defeats Muhammad Ali at Madison Square Garden.
March 12 – Hafez al-Assad becomes president of Syria.
March 12–March 13 – The Allman Brothers Band plays their legendary concert at the Fillmore East.
March 16 – Trygve Bratteli forms a government in Norway.
March 18 – A landslide at Chungar, Peru crashes into Lake Yanahuani, killing 200.
March 23 – General Alejandro Lanusse of Argentina takes power in a military coup.
March 25 – The Pakistani army starts Operation Searchlight in East Pakistan from midnight, after President Agha Muhammad Yahya Khan, a military ruler, voids election results that gave the Awami League an overwhelming majority in the parliament.
March 26

East Pakistan (now Bangladesh) independence is declared by local Awami League leader Hannan Sarker on behalf of Sheikh Mujibur Rahman, from Kalurghat Radio Station in Chittagong.
Nihat Erim (a former CHP member) forms the new government of Turkey (33rd government,composed mostly of technocrats)

March 27 – East Pakistan (now Bangladesh) independence is repeatedly declared by Army Major (later President of Bangladesh) Ziaur Rahman on behalf of Sheikh Mujibur Rahman from Kalurghat Radio Station, Chittagong.
March 28 – The Ed Sullivan Show airs its final episode.
March 29
May 5 – The US dollar floods the European currency markets and threatens especially the Deutsche Mark; the central banks of Austria, Belgium, Netherlands and Switzerland stop the currency trading.
May 6 – The Ceylon government begins a major offensive against the People's Liberation Front.
May 9
May 12 – An earthquake in Turkey destroys most of the city of Burdur.
May 15 – Efraim Elrom, Israeli ambassador to Turkey, is kidnapped; he is found killed in Istanbul May 25.
May 18 – The U.S. Congress formally votes to end funding for the American Supersonic Transport program.
May 19 – Mars probe program: Mars 2 is launched by the Soviet Union.
May 22 – An earthquake lasting 20 seconds destroys most of Bingöl, Turkey – more than 1,000 are killed, 10,000 made homeless.
May 23 – An air crash at Rijeka Airport, Yugoslavia kills 78 people, mostly British tourists.
May 26
May 27

Christie's auctions a diamond known as Deepdene; it is later found to be artificially colored.

May 30 – Mariner program: Mariner 9 is launched toward Mars.
May 31 – The birth of Bangladesh is declared by the government in exile, in territory formerly part of Pakistan.
July – Nordic Council secretariat inaugurated.
July 3 – Jim Morrison, lead singer of The Doors is found dead in his bathtub in Paris, France.
July 4 – Michael S. Hart posts the first e-book, a copy of the United States Declaration of Independence, on the University of Illinois at Urbana–Champaign's mainframe computer, the origin of Project Gutenberg.[3]
July 5 – Right to vote: The 26th Amendment to the United States Constitution, formally certified by President Richard Nixon, lowers the voting age from 21 to 18.
July 6 – Hastings Banda is proclaimed President for Life of Malawi.
July 9 – The United Kingdom increases its troops in Northern Ireland to 11,000.
July 10–July 11 – Coup attempt in Morocco: 1,400 cadets take over the king's palace for 3 hours and kill 28 people; 158 rebels die when the king's troops storm the palace. Ten high-ranking officers are later executed for involvement.
July 10 – Gloria Steinem holds her Address to the Women of America speech.
July 13
July 16 – Spanish dictator and head of state Francisco Franco makes Prince Juan Carlos his successor.
July 17 – Italy and Austria sign a treaty that ends the schism about South Tyrol.
July 18 – The Trucial States are formed in the Persian Gulf.
July 19 – The South Tower of the World Trade Center is topped out at 1,362 feet (415 m), making it the second tallest building in the world.
July 19–July 23 – Major Hashem al-Atta ousts Jaafar Muhammad al-Nimeiri in a military coup in Sudan. Fighting continues until on July 22, when pro-Nimeiri troops win. Al-Atta and 3 officers are executed.
July 25–July 30 – Arturo Benedetti Michelangeli records in Munich two Debussy works for Deutsche Grammophon; it's his fifth recording.
July 26 – Apollo 15 (carrying astronauts David Scott, Alfred Worden, and James Irwin) is launched.
July 28 – Abdel Khaliq Mahjub, Sudanese communist leader, is hanged.
July 29 – The United Kingdom opts out of the Space Race, with the cancellation of its Black Arrow launch vehicle.
July 30 – In Japan, an All Nippon Airways Boeing 727 collides with a Japanese fighter jet; 162 people are killed.
July 31 – Apollo 15 astronauts David Scott and James Irwin become the first to ride in a lunar rover, a day after landing on the Moon.
August – Camden, New Jersey erupts in race riots following the beating death of a Puerto Rican motorist by city police. Looting and arson occurred. This was a turning point in Camden's decline to one of the poorest and highest-crime municipalities in the United States. Camden was, however, the site of a 1949 shooting rampage by Howard Unruh, considered by some to be the first mass murderer in the United States. The riots resulted in the demise of Camden's Sears and A&P branches. Also in 1971, Philadelphia International Records was established, with Camden native Leon Huff as co-founder.
August 1 – In New York City, 40,000 attend the Concert for Bangladesh.
August 5 – South Pacific Forum (SPF)
August 6 – A lunar eclipse lasting 1 hour, 40 minutes, and 4 seconds is observed.
August 9
August 11 – Construction begins on the Louisiana Superdome in New Orleans.
August 12
August 15

The number of British troops in Northern Ireland is raised to 12,500.
President Richard Nixon announces that the United States will no longer convert dollars to gold at a fixed value, effectively ending the Bretton Woods system. He also imposes a 90-day freeze on wages, prices and rents.

August 18
August 19–August 22 – A right-wing coup ignites a rebellion in Bolivia. Miners and students join troops to support president Juan Jose Torres, but eventually Hugo Banzer takes over.
August 20
August 21
August 25
August 30 – The Progressive Conservatives under Peter Lougheed defeat the Social Credit government under Harry E. Strom in a general election, ending 36 years of uninterrupted power for Social Credit in Alberta.
September 3
September 4 – A Boeing 727 (Alaska Airlines Flight 1866) crashes into the side of a mountain near Juneau, Alaska, killing all 111 people on board.
September 8 – In Washington, DC, the John F. Kennedy Center for the Performing Arts is inaugurated, with the opening feature being the premiere of Leonard Bernstein's Mass.
September 9 – September 13 – Attica Prison riots: – A revolt breaks out at the maximum-security prison in Attica, New York. In the end, state police and the United States National Guard storm the facility; 42 are killed, 10 of them hostages.
September 19 – The electric tram system closes in the city of Ballarat, Victoria, Australia.
September 21 – Pakistan declares a state of emergency.
September 24 – Britain expels 90 KGB and GRU officials; 15 are not allowed to return.
September 27–October 11 – Japanese Emperor Hirohito travels abroad.
September 28 – Cardinal József Mindszenty, who has taken refuge in the U.S. Embassy in Budapest since 1956, is allowed to leave Hungary.
September 29 – A cyclone in the Bay of Bengal, in Orissa State in India, kills 10,000.
November 3 – The UNIX Programmer's Manual is published.
November 6 – Operation Grommet: The U.S. tests a thermonuclear warhead at Amchitka Island in Alaska, code-named Project Cannikin. At around 5 megatons, it is the largest ever U.S. underground detonation.
November 8 – Led Zeppelin releases their Fourth Studio album "Led Zeppelin IV" which goes on to sell 23,000,000 copies.
November 9 – A British Royal Air Force C-130 crashes into the Ligurian Sea near Leghorn, Italy, killing all 51 people on board.
November 10 – In Cambodia, Khmer Rouge forces attack Phnom Penh and its airport, killing 44, wounding at least 30 and damaging 9 airplanes.
November 12 – Vietnam War – Vietnamization: U.S. President Richard M. Nixon sets February 1, 1972, as the deadline for the removal of another 45,000 American troops from Vietnam.
November 13 – Mariner program: Mariner 9 becomes the first spacecraft to enter Mars orbit successfully.
November 14 – Pope Shenouda III of Alexandria is enthroned.
November 15
November 20 – A bridge still in construction, called Elevado Engenheiro Freyssinet, falls over the Paulo de Frontin Avenue, in Rio de Janeiro, Brazil; 48 people are killed and several injured. Reconstructed, the bridge is currently a part of the Linha Vermelha elevate.
November 23 – The People's Republic of China takes the Republic of China's seat on the United Nations Security Council (see China and the United Nations).
November 24
November 28 – 59th Grey Cup Game sees the Calgary Stampeders beat the Toronto Argonauts 14 to 11.
June 1 – Mario Cimarro, Cuban actor and singer
June 4
June 5
June 8
June 10
June 12

Arman Alizad, Finnish tailor, columnist and TV personality
Mark Henry, American professional wrestler, former Olympian

June 16 – Tupac Shakur, American rapper, poet, and actor (died 1996)
June 17 – Paulina Rubio, Mexican singer
June 18 – Nathan Morris, American singer (Boyz II Men)
June 21
June 25
June 26 – Max Biaggi, Italian motercycle racer
June 27
June 29 – Matthew Good, Canadian musician
This page uses content from the English language Wikipedia. The original content was at 1971. The list of authors can be seen in the page history. As with this Familypedia wiki, the content of Wikipedia is available under the Creative Commons License.
People of the year 1971 at Familypedia
49 people were born in 1971
17 children were born to the 20 women born in 1971
155 people died in 1971
5626 people lived in 1971
Events of the year 1971 at Familypedia
53 people were married in 1971.
There were 0 military battles in 1971.
Community content is available under
CC-BY-SA
unless otherwise noted.