This article is about the year 1961.


The year of 1961 (MCMLXI) was a common year starting on Sunday (link will display the full calendar) of the Gregorian calendar. As MAD Magazine pointed out on its cover for the March 1961 issue, this was the first "upside-up" year—i.e., one in which the numerals that form the year look the same as when the numerals are rotated upside down—since 1881.[1]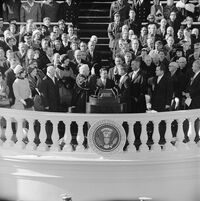 February
Edit
September
Edit
September 1 – The Eritrean War of Independence officially begins with the shooting of the Ethiopian police by Hamid Idris Awate.
September 1 – First meeting held of the Non-Aligned Movement. The Soviet Union resumes nuclear testing, escalating fears over the ongoing Berlin crisis.
September 7 – Tom and Jerry make a return with their first episode since 1957, Switchin' Kitten. The new creator, Gene Deitch makes 12 more Tom and Jerry episodes until 1962.
September 10 – During the F1 Italian Grand Prix on the circuit of Monza, German Wolfgang Von Trips, driving a Ferrari, crashes into a stand, killing 14 spectators and himself.
September 14 – The new military government of Turkey sentences 15 members of the previous government to death.
September 14 – The Focolare Movement opens its first North American center in New York.
September 17 – Military rulers in Turkey hang former prime minister Adnan Menderes.
September 18 – UN Secretary-General Dag Hammarskjöld dies in an air crash en route to Katanga, Congo.
September 21 – In France, the OAS slips an anti-de Gaulle message into TV programming.
September 24
September 28 – A military coup in Damascus, Syria effectively ends the United Arab Republic, the union between Egypt and Syria.
September 30 – Organization for Economic Cooperation and Development (OECD) formed to replace the Organization for European Economic Co-operation (OEEC).
November
Edit
December
Edit
Date unknown
Edit
January–February
Edit
January 1
January 2
January 5 – Iris DeMent, American singer-songwriter
January 7 – Supriya Pathak,Indian actress
January 8 – Calvin Smith, American athlete
January 11 – Karl von Habsburg-Lothringen (Károly), Archduke, Prince Imperial of Austria, Prince Royal of Hungary
January 13
January 14 – Mike Tramp, Danish rock singer (White Lion)
January 17 – Maia Chiburdanidze, Georgian chess player
January 18
January 22
January 24
January 26 – Wayne Gretzky, Canadian hockey player
January 28 – Arnaldur Indridason, Icelandic writer
January 29 – Petra Thumer, German swimmer
January 31 – Lloyd Cole, British singer and songwriter
February 1 – Volker Fried, German field hockey player
February 3 – Jim Balsillie, Canadian CEO and philanthropist
February 8 – Vince Neil, American singer
February 9
February 10 – George Stephanopoulos, American political consultant and commentator
February 11 – Mary Docter, American speed skater
February 13 – Henry Rollins, American musician and political activist
February 14 – Latifa, Tunisian singer
February 17 – Andrey Korotayev, Russian anthropologist, economic historian, and sociologist
February 21
February 22 – Akira Takasaki, Japanese guitarist
February 25 – Davey Allison, American race car driver (d. 1993)
February 27 – James Worthy, American basketball player and analyst
February 28 – Mark Latham, Australian politician
March–April
Edit
March – Reggie Fils-Aimé, American businessperson
March 3
March 4
March 9
March 10
March 14 – Gary Dell'Abate, American radio producer
March 16 – Brett Kenny, Australian rugby league player
March 17
March 21 – Lothar Matthäus, German footballer
March 23 – Helmi Johannes, Indonesian television newscaster
March 27 – Tak Matsumoto, Japanese guitarist (B'z)
March 28 – Byron Scott, American basketball player and coach
March 29
April 1 – Susan Boyle, Scottish singer
April 2 – Christopher Meloni, American actor
April 3 – Eddie Murphy, American actor and comedian
April 6 – Gene Eugene, Canadian actor and singer
April 7 – Thurl Bailey, American basketball player
April 12 – Lisa Gerrard, Australian musician
April 14 – Neil Dougherty, American basketball coach (d. 2011)
April 17
April 18 – Jane Leeves, English actress
April 20
April 21 – Cathy Cavadini, American voice actress
April 23 – George Lopez, American actor and comedian
April 26 – Anthony Cumia, American radio personality
April 27 – Moana Pozzi, Italian porn actress (d. 1994)
April 28 – Futoshi Matsunaga, Japanese serial killer
April 29 – Fumihiko Tachiki, Japanese voice actor
April 30 – Isiah Thomas, American basketball player, coach, and team owner
May–June
Edit
July–August
Edit
July 1
July 4 – Andrew Zimmern, American television personality (Bizarre Foods)
July 5 – Patrizia Scianca, Italian voice actress
July 7 – Eric Jerome Dickey, American writer
July 8 – Toby Keith, American country music singer
July 10 – Jacky Cheung, Hong Kong singer and actor
July 14 – Jackie Earle Haley, American actor
July 17 – Jonathan Potts, Canadian actor
July 19
July 22 – Keith Sweat, American singer
July 23 – Woody Harrelson, American actor and comedian
July 26 – Keiko Matsui, Japanese pianist and composer
July 30 – Laurence Fishburne, American actor
August 3 – Nick Harvey, English politician
August 4
August 5 – Clayton Rohner, American actor
August 7
August 8
August 11
August 14 – Susan Olsen, American actress and animal welfare advocate
August 18
August 21 – Stephen Hillenburg, American animation writer and artist
August 22 – Andres Calamaro, Argentine musician
September–October
Edit
November–December
Edit
Date unknown
Edit
January–June
Edit
July–December
Edit
Date unknown
Edit
Nobel Prizes
Edit
References
Edit
This page uses content from the English language Wikipedia. The original content was at 1961. The list of authors can be seen in the page history. As with this Familypedia wiki, the content of Wikipedia is available under the Creative Commons License.
People of the year 1961 at Familypedia
42 people were born in 1961
20 children were born to the 21 women born in 1961
173 people died in 1961
7080 people lived in 1961
Events of the year 1961 at Familypedia
Edit
51 people were married in 1961.
There were 0 military battles in 1961.
Community content is available under
CC-BY-SA
unless otherwise noted.