This article is about the year 1956.


Year 1956 (MCMLVI) was a leap year starting on Sunday (link will display the full calendar) of the Gregorian calendar.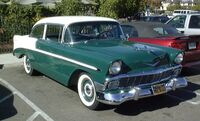 November 1

The States Reorganisation Act of India reforms the boundaries and names of Indian states. Two new states Kerala and Karnataka were formed.
City Lights Books publishes Howl and Other Poems by Allen Ginsberg.
The film Oklahoma! (1955), previously released to select cities in Todd-AO, now receives a national release in Cinemascope, since not all theatres are yet equipped for Todd-AO. To accomplish this, the film had to be actually shot twice, rather than printing one version in two different film processes as is done today.

November 3 – MGM's film The Wizard of Oz makes its TV debut on the CBS network. This marks the first time a major Hollywood film running more than ninety minutes is televised uncut in one evening. Up to then, only B-movies and British films had been telecast, often edited or in two parts if they ran more than ninety minutes. The longest film telecast prior to this was Olivier's version of Richard III, which, unlike Oz, was somewhat edited and not telecast in prime time.
November 4 – 1956 Hungarian Revolution: More Soviet troops invade Hungary to crush a revolt that started on October 23. Thousands are killed, more are wounded, and nearly a quarter million leave the country.
November 6 – United States presidential election, 1956: Republican incumbent Dwight D. Eisenhower defeats Democrat challenger Adlai E. Stevenson in a rematch of their contest 4 years earlier.
November 7 – Suez Crisis: The United Nations General Assembly adopts a resolution calling for the United Kingdom, France, and Israel to withdraw their troops from Arab lands immediately.
November 13 – The United States Supreme Court declares Alabama and Montgomery, Alabama laws requiring segregated buses illegal, thus ending the Montgomery Bus Boycott.
November 14 – Fighting ends in Hungary. Template:NoMention
November 15 – Middle East Technical University is founded in Ankara, Turkey.
November 20 – In Yugoslavia, former prime minister Milovan Djilas is arrested after he criticizes Josip Broz Tito.
November 22 – The 1956 Summer Olympics begin in Melbourne, Australia.
November 23 – The Suez Crisis causes petrol rationing in Britain.[3]
November 28 – Roger Vadim's drama film And God Created Woman released in France as Et Dieu… créa la femme, propels Brigitte Bardot into the public spotlight as a "sex kitten".
November 30 – Floyd Patterson wins the world heavyweight boxing championship that was vacant after the retirement of Rocky Marciano.
January 1
January 3 – Mel Gibson, American actor and director
January 5 – Chen Kenichi, Japan-born Chinese chef
January 7
January 9
January 10 – Shawn Colvin, American singer
January 14 – Ben Heppner, Canadian tenor
January 16 – Martin Jol, Dutch football manager
January 17 – Paul Young, English musician
January 18 – Tom Bailey, English musician
January 19 – Adriana Acosta, Argentine militant and field hockey player
January 20 – Bill Maher, American actor, comedian, and political analyst
January 21 – Geena Davis, American actress
January 24 – Lounès Matoub, Algerian Berber Kabyle singer
January 25 – Bronwyn Pike, Australian politician
January 27 – Mimi Rogers, American actress
January 29
January 31 – Johnny Rotten, British punk musician and TV personality
February 1 – Mike Kitchen, Canadian ice hockey player and coach
February 2 – Adnan Oktar, a.k.a. Harun Yahya, Turkish Author
February 3
February 6 – Jon Walmsley, British actor (The Waltons)
February 10 - Enele Sopoaga, Tuvaluan politician and diplomat
February 11
February 13
February 14 – Tom Burlinson, Australian actor
February 15 – Desmond Haynes, West Indian cricketer
February 18 – Thomas Gradin, Swedish hockey player
February 19
February 24
February 25 – Davie Cooper, Scottish footballer (d. 1995)
February 26 – Keisuke Kuwata, Japanese musician
February 29
November 8
November 10 – Mohsen Badawi, Egyptian entrepreneur, political activist, and writer
November 14 – Avi Cohen, Israeli football player
November 17 – Kelly Ward, American actor
November 18
November 20 – Bo Derek, American actress and model
November 23
November 26 – Dale Jarrett, American race car driver
November 27 – William Fichtner, American actor
November 28 – Lucy Gutteridge, English actress
November 29
December 5
December 6 – Randy Rhoads, American guitarist
December 7 – Larry Bird, American basketball player
December 9 - Jean-Pierre Thiollet, French writer
December 11 – Lani Brockman, American playwright
December 12
December 13 – Majida El Roumi, Lebanese singer
December 14 – Béla Réthy, German sports journalist
December 16 – Duncan Faure, South African musician
December 18 – Ron White, American comedian
December 19 – Masami Akita, Japanese noise musician (also known as Merzbow)
December 23 – Michele Alboreto, Italian race car driver (d. 2001)
December 26 – David Sedaris, American essayist
December 28
December 29 – Fred MacAulay, Scottish comedian
December 30
December 31 – Hussein Ahmed Salah, Djiboutian marathon player
January 3
January 5 – Mistinguett, French singer (b. 1875)
January 9 – Marion Leonard, American actress (b. 1881)
January 12 – Norman Kerry, American actor (b. 1894)
January 13 – Lyonel Charles Feininger, German painter (b. 1871)
January 14 – Sheila Kaye-Smith, English writer (b. 1887)
January 21 – Sam Langford, Canadian boxer (b. 1883)
January 24 – Sir Alexander Korda, Hungarian-born film director (b. 1893)
January 27 – Erich Kleiber, German conductor (b. 1890)
January 29 – H. L. Mencken, American writer (b. 1880)
January 31 – A. A. Milne, English author (Winnie The Pooh) (b. 1882)
February 2
February 8 – Connie Mack, American baseball executive and manager (b. 1862)
February 10 – Hugh Trenchard, 1st Viscount Trenchard, British marshal of the Royal Air Force (b. 1873)
February 18 – Gustave Charpentier, French composer (b. 1860)
February 20 – James Cousins, Irish writer (b. 1873)
February 26 – Elsie Janis, American singer and actress (b. 1889)
February 29 – Elpidio Quirino, President of the Philippines (b. 1890)
March 14 – David Browning, American Olympic diver (b. 1931)
March 17
March 18 – Louis Bromfield, American writer (b. 1896)
March 20
March 25
March 30 – Edmund Clerihew Bentley, English inventor (b. 1875)
March 31 – Ralph DePalma, Italian-born race car driver (b. 1884)
Lotte Herrlich, regarded as the most important female photographer of German naturism
London Institute of World Affairs, The Year Book of World Affairs 1957 (London 1957) full text online, comprehensive reference book covering 1956 in diplomacy, international affairs and politics for major nations and regions
This page uses content from the English language Wikipedia. The original content was at 1956. The list of authors can be seen in the page history. As with this Familypedia wiki, the content of Wikipedia is available under the Creative Commons License.
People of the year 1956 at Familypedia
62 people were born in 1956
15 children were born to the 26 women born in 1956
179 people died in 1956
8613 people lived in 1956
Events of the year 1956 at Familypedia
49 people were married in 1956.
There were 0 military battles in 1956.
Community content is available under
CC-BY-SA
unless otherwise noted.