This article is about the year 1919.


Year 1919 (MCMXIX) was a common year starting on Wednesday (link will display the full calendar) of the Gregorian calendar and a common year starting on Tuesday of the 13-day-slower Julian calendar.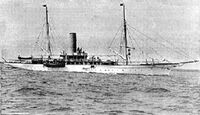 May 1

A large left-wing demonstration in France leads to a violent confrontation with the police.
Riots break out in Cleveland, Ohio; 2 people are killed, 40 injured, and 116 arrested.

May 3
May 4 – The May Fourth Movement opposes foreign colonizers in China.
May 5 – The League of Red Cross Societies is founded in Paris.
May 8 - Edward George Honey first proposes the idea of a moment of silence to commemorate The Armistice of World War I, which later results in the creation of Remembrance Day.
May 9 – In Belgium, a new electoral law introduces universal manhood suffrage and gives the franchise to certain classes of women.
May 15 – Winnipeg workers launch a general strike for better wages and working conditions.
May 16
May 17 – The Committee of One Thousand forms to oppose the Winnipeg General Strike.
May 19 – Mustafa Kemal Atatürk lands at Samsun on the Anatolian Black Sea coast, marking the start of the Turkish War of Independence. The anniversary of this event is also an official day of Turkish Youth.
May 23 – The University of California opens its second campus in Los Angeles. Initially called Southern Branch of the University of California (SBUC), it is eventually renamed the University of California, Los Angeles (UCLA).
May 29
May 30 – By agreement with the United Kingdom, later confirmed by the League of Nations, Belgium is given the mandate over part of German East Africa (Ruanda-Urundi).
John Maynard Keynes' book The Economic Consequences of the Peace is published in the UK.
Earl W. Bascom, rodeo cowboy and artist, along with his father John W. Bascom at Lethbridge, Alberta, Canada, designs and makes rodeo's first reverse-opening side-delivery bucking chute, now the world standard.
Les Champs Magnetiques, the first automatic book, is written by André Breton and Philippe Soupault.
XWA (now CINW), in Montreal, Quebec, becomes the first public radio station in North America to go on the air.
Various strikes occur in the United States: Strike of US railroad workers; The Longshoreman's strike; The Great Steel Strike; and a general strike in Seattle, Washington.
Female suffrage is enacted in Germany and Luxembourg.
The International Astronomical Union is founded in France.
The World League Against Alcoholism is established by the Anti-Saloon League.
The fictional character Ham Gravy debuts in Thimble Theatre Comics.
US President Woodrow Wilson promises eventual independence for Philippines, though subsequent Republican administrations see it as a distant goal.
John Moses Browning finalizes the design for the M1919 .30 (30-06) caliber medium machine gun, the first widely distributed and practical air cooled medium machine gun introduced to the US Military. It receives an official designation and production is started in the same year, a very uncommon happening. It is later reconfigured to shoot the .50 BMG (Browning Machine Gun) cartridge and is redesignated the M2 Browning .50 caliber heavy machine gun, which is still in use to this day after almost one hundred years of service, with no signs of being de-commissioned in even the far future.
Severe inflation in Germany has seen the Papiermark rise to 47 marks next to a American dollar by December, compared to 12 marks in April.[4]
May 1
May 3
May 7
May 8 – Lex Barker, American actor (d. 1973)
May 14 – Denis Cannan, British dramatist, playwright and scriptwriter
May 17
May 18 – Margot Fonteyn, English ballet dancer (d. 1991)
May 20 – George Gobel, American comedian (d. 1991)
May 23
June 4 – Robert Merrill, American baritone (d. 2004)
June 11 – Richard Todd, Irish born British actor (d. 2009)
June 12 – Ahmed Abdallah, former President of the Comoros (d. 1989)
June 14 – Gene Barry, American actor (d. 2009)
June 19 – Pauline Kael, American film critic (d. 2001)
June 21 – Gérard Pelletier, Canadian journalist, politician, and diplomat (d. 1997)
June 26 – Richard Neustadt, American political historian (d. 2003)
November 3
November 5 – Myron Floren, American accordionist (The Lawrence Welk Show) (d. 2005)
November 6 – Christoph Probst, German White Rose resistance member (d. 1943)
November 10
November 14 – Lisa Otto, German soprano
November 15 – Roy Burden, Canadian World War II pilot (d. 2005)
November 18 – Andrée Borrel, French World War II heroine (d. 1944)
November 19 – Alan Young, English-born character actor
November 21 – Gert Fredriksson, Swedish canoer (d. 2006)
November 26 – Frederik Pohl, American science fiction writer
November 28 – Keith Miller, Australian sportsman (d. 2004)
December 4 – I. K. Gujral, Indian politician, Prime Minister of India (1997–98)
December 6 – Paul de Man, Belgian-born literary critic (d. 1983)
December 7 – Lis Løwert, Danish actress (d. 2009)
December 8 – Mieczyslaw Weinberg, Polish composer (d. 1996)
December 9 – William Lipscomb, American chemist, Nobel Prize laureate (d. 2011)
December 13 – Hans-Joachim Marseille, German World War II fighter ace (d. 1942)
December 14 – Margie Stewart, American model and actress (d. 2012)
December 21 – Ove Sprogøe, Danish actor (d. 2004)
December 31 – Tommy Byrne, baseball player (d. 2007)
Margaret MacMillan, Paris 1919: Six Months That Changed the World, 2002, Random House.
Paula Phelan, 1919 Misfortune's End, 2007, ZAPmedia.
This page uses content from the English language Wikipedia. The original content was at 1919. The list of authors can be seen in the page history. As with this Familypedia wiki, the content of Wikipedia is available under the Creative Commons License.
People of the year 1919 at Familypedia
153 people were born in 1919
42 children were born to the 69 women born in 1919
261 people died in 1919
15736 people lived in 1919
Events of the year 1919 at Familypedia
208 people were married in 1919.
There were 0 military battles in 1919.
Community content is available under
CC-BY-SA
unless otherwise noted.