This article is about the year 1900.

Wikimedia Commons has media related to:

Year 1900 (MCM) was an exceptional common year starting on Monday (link will display the full calendar) of the Gregorian calendar and a leap year starting on Saturday of the Julian calendar. As a result, the Julian calendar was 12 days behind the Gregorian until Wednesday, February 28 (O.S. February 16) and has been 13 days behind since Thursday, March 1 (O.S. February 17). It was the 1900th year of the Anno Domini or the Common Era designation, the 900th year of the 2nd millennium, and the last year of the 19th century but the first year of the 1900s.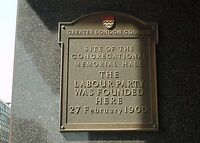 January 2
January 3
January 4
January 5
January 6 – John Sinclair, American actor (d. 1945)
January 8
January 9
January 10 – Jean Gehret, Swedish actor and director (d. 1956)
January 11
January 16 – Edith Frank, German-Dutch mother of Anne Frank (d. 1945)
January 18 – Wan Laiming, Chinese animator, (d. 1997)
January 23 – William Ifor Jones, Welsh conductor and organist (d. 1988)
January 24 – Theodosius Dobzhansky, Ukrainian geneticist and evolutionary biologist (d. 1975)
January 26 – Karl Ristenpart, German conductor (d. 1967)
January 27 – Hyman Rickover, American admiral (d. 1986)
January 28 – Rajagopala Tondaiman, King of Pudukkottai (d. 1950)
January 30 – Martita Hunt, Argentine-born British actress (d. 1969)
This page uses content from the English language Wikipedia. The original content was at 1900. The list of authors can be seen in the page history. As with this Familypedia wiki, the content of Wikipedia is available under the Creative Commons License.
People of the year 1900 at Familypedia
319 people were born in 1900
112 children were born to the 140 women born in 1900
410 people died in 1900
17661 people lived in 1900
Events of the year 1900 at Familypedia
224 people were married in 1900.
There were 0 military battles in 1900.
Community content is available under
CC-BY-SA
unless otherwise noted.