Łódź Voivodeship (also known as Łódź Province,[1] or by its Polish name of województwo łódzkie [vɔjɛˈvut​͡stfɔ ˈwut​͡skʲɛ] or simply Łódzkie) is a province (voivodeship) in central Poland. It was created on 1 January 1999 out of the former Łódź Voivodeship (1975–1999) and the Sieradz, Piotrków Trybunalski and Skierniewice Voivodeships and part of Płock Voivodeship, pursuant to the Polish local government reforms adopted in 1998. The province is named after its capital and largest city, Łódź, pronounced [wut​͡ɕ].
Łódź Voivodeship is bordered by six other voivodeships: Masovian to the north and east, Świętokrzyskie to the south-east, Silesian to the south, Opole to the south-west, Greater Poland to the west, and Kuyavian-Pomeranian for a short stretch to the north. Its territory belongs to three historical provinces of Poland – Masovia (in the east), Greater Poland (in the west) and Lesser Poland (in the southeast, around Opoczno).
The voivodeship contains 44 cities and towns. These are listed below in descending order of population (according to official figures for 2006):[2]
Łódź (764,168)
Piotrków Trybunalski (79,367)
Pabianice (70,445)
Tomaszów Mazowiecki (66,705)
Bełchatów (62,062)
Zgierz (58,313)
Radomsko (49,152)
Skierniewice (48,761)
Kutno (47,557)
Zduńska Wola (44,370)
Sieradz (44,045)
Łowicz (30,204)
Wieluń (24,347)
Opoczno (22,708)
Ozorków (20,571)
Łódź Voivodeship is divided into 24 counties (powiats): 3 city counties and 21 land counties. These are further divided into 177 gminas.
The counties are listed in the following table (ordering within categories is by decreasing population).
English and
Polish names
Area
(km²)
Population
(2006)
Seat
Other towns
Total
gminas
City counties
Łódź
293
764,168
1
Piotrków Trybunalski
67
79,367
1
Skierniewice
33
48,761
1
Land counties
Zgierz County
powiat zgierski
854
160,805
Zgierz
Ozorków, Aleksandrów Łódzki, Głowno, Stryków
9
Sieradz County
powiat sieradzki
1,491
121,013
Sieradz
Złoczew, Warta, Błaszki
11
Tomaszów Mazowiecki County
powiat tomaszowski
1,026
120,973
Tomaszów Mazowiecki
11
Pabianice County
powiat pabianicki
491
119,008
Pabianice
Konstantynów Łódzki
7
Radomsko County
powiat radomszczański
1,443
118,856
Radomsko
Przedbórz, Kamieńsk
14
Bełchatów County
powiat bełchatowski
969
112,640
Bełchatów
Zelów
8
Kutno County
powiat kutnowski
886
104,124
Kutno
Żychlin, Krośniewice
11
Piotrków County
powiat piotrkowski
1,429
90,227
Piotrków Trybunalski *
Sulejów, Wolbórz
11
Łowicz County
powiat łowicki
987
82,338
Łowicz
10
Opoczno County
powiat opoczyński
1,039
78,659
Opoczno
Drzewica
8
Wieluń County
powiat wieluński
928
78,260
Wieluń
10
Zduńska Wola County
powiat zduńskowolski
369
67,704
Zduńska Wola
Szadek
4
Łódź East County
powiat łódzki wschodni
499
64,574
Łódź *
Koluszki, Tuszyn, Rzgów
6
Łęczyca County
powiat łęczycki
774
53,435
Łęczyca
8
Pajęczno County
powiat pajęczański
804
53,395
Pajęczno
Działoszyn
8
Łask County
powiat łaski
617
50,874
Łask
5
Rawa County
powiat rawski
647
49,443
Rawa Mazowiecka
Biała Rawska
6
Wieruszów County
powiat wieruszowski
576
42,336
Wieruszów
7
Poddębice County
powiat poddębicki
881
42,195
Poddębice
Uniejów
6
Skierniewice County
powiat skierniewicki
756
37,779
Skierniewice *
9
Brzeziny County
powiat brzeziński
359
30,600
Brzeziny
5
* seat not part of the county
Protected areas in Łódź Voivodeship include seven Landscape Parks, as listed below.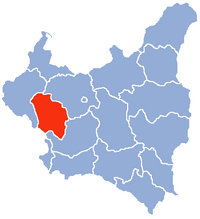 The capital of the Łódź Voivodeship has always been Łódź, but the area of land which it comprises has changed several times. The first was a unit of administrative division and local government in the Second Polish Republic in the years 1921–1939. In 1938 some western counties were ceded to Greater Poland Voivodeship (see: Territorial changes of Polish Voivodeships on April 1, 1938).
After the change, Łódź Voivodeship's area was 20,446 km², and its population (as for 1931) was 2,650,100. It consisted of 15 powiats (counties):
The largest cities of the Voivodeship were (population according to the 1931 census):
Łódź (pop. 604,600),
Piotrków Trybunalski (pop. 51,300),
Pabianice (pop. 45,700),
Tomaszów Mazowiecki (pop. 38,000),
Zgierz (pop. 26,600),
Kutno (pop. 23,400),
Radomsko (pop. 23,000).
Source: Maly rocznik statystyczny 1939, Nakladem Glownego Urzedu Statystycznego, Warszawa 1939 (Concise Statistical Year-Book of Poland, Warsaw 1939).
The next incarnation existed from 1945 until 1975 (although the city of Łódź was excluded as a separate City Voivodeship). This Łódź Voivodeship was then broken up, superseded by Łódź (see below), Sieradz, Piotrków Trybunalski, Skierniewice and partly Płock Voivodeships.
Łódź Voivodeship, also known as Łódź Metropolitan Voivodeship (województwo miejskie łódzkie), existed from 1975 until 1998, after which it was incorporated into today's Łódź Voivodeship. In that period the mayor of the city of Łódź was also the voivodeship governor.
As of 1995, major cities and towns in Łódź Metropolitan Voivodeship included (with their 1995 populations):
Notes
City counties

Land counties
Coordinates: 51°36′43″N 19°25′26″E / 51.61194, 19.42389
Community content is available under
CC-BY-SA
unless otherwise noted.